I thought of sharing a number of Hollywood celebrities or athletes (non-running specialists) that have completed a marathon respectively today to get my readers inspired and try running for one (for the virgins)... :)
Ryan Reynolds completed the New York Marathon 2008 in awesome time of 3:50:22
Whoa!!!
I wonder if he's running again this year? I wanna hug those biceps... Mmmmm :P
Megatalk show queen Oprah Winfrey completed the Marine Corps Marathon in 4:29:20
I shall beat your time soon Oprah! :P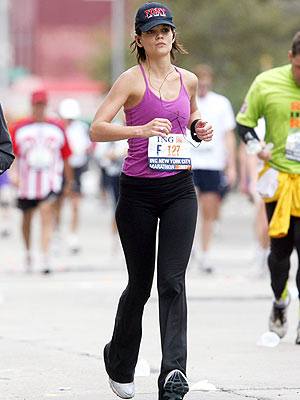 Katie Holmes completed the New York Marathon 2007 in 5:29:58
Awesome Mrs Cruise! :)
Sean Combs aka Diddy completed the New York City Marathon 2003 in 4:14:54
Major WHOAAAA!!!
Ryan Reynold's ex, Alanis Morissette, completed the NYC Marathon 2009 in 4:28:45
Not bad at all Mrs Jagged Little Pill ;)
Next to her, Mr Fight Clubber Edward Norton, completed the same marathon in 3:48:01
Superb!!!
Shia LaBeouf completed the LA Marathon 2010 in 4:35:31
Not bad Mr Witwicky!
Flea, bassist of Red Hot Chili Peppers completed the LA Marathon 2011 in 3:52:49
And this was his first attempt!!!
Mr Nasty Chef aka Gordon Ramsay completed the London Marathon 2008 in 3:45:41
I think he might have cursed a lot during the marathon to achieve such an awesome timing! :P
Last but not least:
.
.
.
.
.
.
.
.
.
.
Mr Funnyman Will Ferrell completed the Boston Marathon 2006 in 3:56:12
I am pretty sure all of you didn't think that he could even run 5km!!! :P
(Note: All of the pictures were taken from various sites at Google Images)
Unbelievably amazing right?!!! If they can squeeze in and accomplish a marathon in between their super busy schedules respectively, I am pretty sure that all of you out there can... ;)
Have a happy running weekend to everyone! Oh, and good luck to everyone that will be participating in Rexona Men Adventure Challenge, Seremban Half Marathon, Orange Run and Port Dickson International Triathlon this weekend! I'll be in Seremban y'all to do my last half marathon before the puasa month... :)
Oh, and it's never to late to run a marathon... Just like this supercool grandma here... :)
She ran her first marathon when she was a cool 86!!!
Taken from Runner's World June 2011 Edition